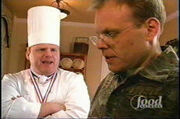 Brown's arch-nemesis, who is stereotypically snobbish toward all non-French forms of cooking, and berates Brown for not using French techniques. He says you should tear greens instead of cutting them, to prevent brown edges. Over the course of the series, the Chef seems to become more angry, as his title in different episodes changes to "Really Mad French Chef" and beyond. The Chef is currently voiced by Brown, as he is no longer seen on-screen except for one "appearance" as an oven mitt/puppet in the episode "Crepe Expectations".
Ad blocker interference detected!
Wikia is a free-to-use site that makes money from advertising. We have a modified experience for viewers using ad blockers

Wikia is not accessible if you've made further modifications. Remove the custom ad blocker rule(s) and the page will load as expected.