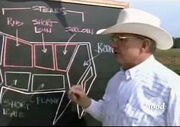 Mel Coleman
is founder and president of Coleman Natural Products. The Coleman company is unique in the U.S. in that it is one of the few companies which produce meats from animals which are raised from birth without the use of growth-promoting hormones and anti-biotics and on feeds tested free of chemical residues.
He informs Alton on the various cuts of steaks. He claims most women like t-bone steaks because they are tender, and pokes fun of Alton's steer diagram, calling the horns antennas. He prefers his steak medium rare.
References
Edit
"Good Eats Fan Page", January 7, 2000.
"Steak Your Claim". Good Eats. July 7, 1999. No. 1, season 1.
Ad blocker interference detected!
Wikia is a free-to-use site that makes money from advertising. We have a modified experience for viewers using ad blockers

Wikia is not accessible if you've made further modifications. Remove the custom ad blocker rule(s) and the page will load as expected.